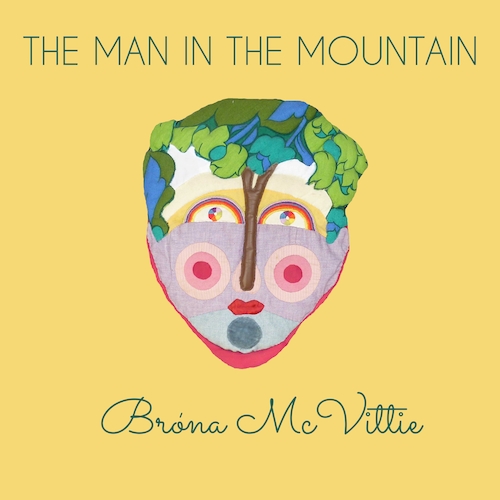 The Man in the Mountain
Available Formats
Tracks
Price
Buy
CD Album
10 tracks

£

10.00
Description
Brona McVittie - The Man in the Mountain
The Man in the Mountain is the new album by Northern-Irish singer songwriter Bróna McVittie including tracks released as a double A side single in January 2020, The Green Man and Eileen Aroon. This follows Bróna's 2018 debut album We Are the Wildlife, and showcases new collaborations with avant-garde Nordic composer Arve Henriksen on The Lark in the Clear Air and electronic duo Isan on Eileen Aroon and Falling for Icarus.

McVittie's second album includes fewer traditional folk songs than her debut with more focus on her original compositions, drawn from her deep love and knowledge of Irish folk mythology, music and the natural world. The title track The Man in the Mountain explores the legend of Irish giant Finn McCool wrapping it in a rich tapestry of harp, drones and hushed vocals. Henriksen and McVittie together find a completely new mood for widely-favoured Irish folk song The Lark in the Clear Air. His experimental trumpet and electronics provide an innovative sound-bed for her elongated vocal phrasing that stretches two verses across seven minutes, paying deep reverence to the well-known Samuel Ferguson ballad. Electronica trailblazers Robin Saville & Antony Ryan (Isan) co-arrange 14th-century folk song Eileen Aroon and original sun-worshipping anthem Falling for Icarus, which adopts nuclear fusion as a metaphor for love. Elsewhere on the album, as Bróna weaves a thread between cosmology and ancient myths, track titles abound with literary references from poets and authors including Siegfried Sassoon Glamour Obscures her Gaze, Pablo Neruda Secretly, Between the Shadow and the Soul, William Wordsworth So Be it When I Shall Grow Old and Henry Williamson Strange and Forgotten Things of the Moor reflecting the breadth of her influences.
Reviews
Pennyblack Music
"There's a delicacy to her singing which reminds me of fellow Irish singer Cara Dillon, and of Lesley Duncan and Vashti Bunyan. There are psych folk influences from recent times and memories of Sixties and Seventies folk experimentation with traditional forms.
Once more, Brona McVittie establishes her well deserved place in contemporary music as she weaves together deep and mysterious aspects of folklore with a reverence for the natural world and an appreciation of poetry that can transport us to a magical realm. It's never been more important to connect with what lies beyond and beneath through sound and words, through beautiful singing and fascinating arrangements. Brona McVittie is a perfect guide."
Dancing About Architecture
"The instrument sounds are beautifully balanced throughout and leave just sufficient room for the vocal to comfortably sit. Without being derivative, the arrangements are evocative of the softer moments found in the canon of Kate Bush but with a genuine celtic heritage and pedigree.
If you get Cara Dillon or Jane Weaver, this album will definitely get you."
Tracklisting
CD Album (COC003CD)
Brona McVittie feat. Myles Cochran, Richard Curran, Anne Garner

- The Green Man

Brona McVittie feat. Isan, Myles Cochran

- Falling for Icarus

Brona McVittie feat. Myles Cochran, Richard Curran

- The Man in the Mountain

Brona McVittie feat. Myles Cochran

- Secretly Between the Shadow and the Soul

Brona McVittie feat. Myles Cochran, Richard Curran, Anne Garner

- So Be It When I Shall Grow Old

Brona McVittie feat. Isan, Myles Cochran

- Eileen Aroon

Brona McVittie feat. Arve Henriksen, Myles Cochran

- The Lark in the Clear Air

Brona McVittie feat. Myles Cochran, Richard Curran

- In the Secret Garden

Brona McVittie feat. Myles Cochran

- Strange and Forgotten Things of the Moor

Brona McVittie feat. Hutch Demouilpied

- When Glamour Hid Her Gaze